Car Racing
I got interested in cars about the time any young man does, when he gets his driver's license. I liked figuring out how they worked, fixing them when they broke and eventually how to make them perform better. But I got hooked on car racing when I went to the drag strip. Take a look at my street car page, these pages contain photos of the cars we modified back in high school.
I helped a very good friend of mine, a fellow gear head, Chris, build and race a car. He built a purely for racing 67-68 Chevy Camaro for the drag strip. It was a 350 cubic inch small block bracket racer, running in the 10.8-sec. range for the quarter (1/4) mile. A real neat car.
I helped another very good friend of mine, another gear head, Don. He raced a Pontiac Firebird with a big block Chevy motor in bracket racing also. The stories of the weekends racing, the people we met, the distances traveled, the food quality at each track could fill volumes. This was certainly a great time in my life.
I found the type of racing I wanted to do after attending a weekend in 1975 at Pocono Raceway when International Motor Sports Association (IMSA) was road racing. I camped out with a bunch of friends in the infield and we had access to the garages. We got to see just about everything close up. I looked at the cars racing in IMSA's Racing Stock class, and decided there and then that 1) It was something I wanted to do and 2) It was something that I could do. The cars were 'slightly' modified compacts, racing on street radial tires. As close to affordable professional racing that I was ever going to get.
I actually got a paying job as a racecar mechanic! In 1978, I answered a job posting I found on the college rec center's bulletin board. It was for Chapel Hill Racing, in Montville, NJ. Rich and Tim were the principles of the company. They built and maintained Formula Fords for customers who raced nationally with the Sport Car Club of America (SCCA). They needed a gofer and broom pusher and the pay was two (2) dollars an hour. After awhile, I showed them my mechanical ability, and I was allowed to work on the racecars. The pay jumped up to four (4) dollars an hour. In retrospect, it was probably the best job I ever had.




I started building the Ford Pinto racecar in 1977. I was living at home and going to college locally at the time. Never had any real money to spend on it. The whole car was put together with second hand parts. Good parts, though, racing stuff where it mattered and stock parts every where else. I raced that Pinto from 1981 to 1984 in IMSA's Racing Stock Class, along with other Pintos, Gremlins, Vegas and a host of others.

As I indicated previously, I enjoyed going to races as a spectator as well. One year, 1980, I got to talking to my friend John Buser about going to 'The Glen'. There was an F1 race sheduled for October of that year. So I asked him if he would like to go and camp out. John was a rocket launching buddy, and a computer geek too. We entered the working world about the same time as 'computer programmers'. We were both in the defense industry, but different lines of work. John was at "The Glen" in 1974 when the Greyhound bus was stolen and burned in "The Bog". He warned me that there could be some trouble. I knew "The Glen" was a big track and we could just avoid the trouble spots. So we went, here are some of the pictures.

In 1985 IMSA's Racing Stock Class evolved into International Sedan, featuring small two (2) door, four (4) cylinder, front wheel drive sedans. The Pinto was sold and a built-from-scratch Dodge Charger was developed. It took us, Don and I, two years to put the car together. We started from an in-white, bare metal unit-body tub, pulled right off Chrysler's Belvidere Ill. assembly line. Raceweld, in NJ, put a full NASCAR-style roll cage in for us. We did the rest, the engine, the transmission, interior, fuel cell, etc. When we finally reached the track, we found that the ante for getting into this racing game had risen. IMSA was getting a lot of TV network time and sponsorship was up. There were guys in our division who were fielding two (2) of the same car and coming to the track with an 18-wheel tractor/trailer! We thought we were something with a double axle car carrier and a truck that we didn't have to rent for the weekend! Times, they were a-changing.



In 1989 IMSA's International Sedan Proformance Class had evolved once again, and the Dodge was now too old. We ran the car several times in EMRA, a great grass roots racing organization. They have a run-what-you-brung attitude. There is a class for every type of car, the road-racing equivalent of your local drag strip. We highly recommend this organization if you want to race on the cheap.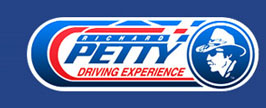 For a combination birthday & christmas present, my wife bought me 'The Experience of a Lifetime", 30 laps at the Richard Petty Driving Experience. So in the summer of 2008 at Walt Disney World Speedway, Orlando Fl, I sat in and drove a racecar again. It had been several years since I drove any car that was race track only. These cars were, by my estimation, 2005 or so 'old' NASCAR Cup cars. The engines were 'warmed over' small block Chevy's, built to run all day, with an advertised 600 hp. They had a broad torque curve, with pulling power from about 2.5k through 6k rpm. I looked under the body work and found a full blooded real racecar. The racing slicks seemed huge to me, as I had only ever raced with shaved / race prepped street radial tires. The cars were setup with a bunch of push, easy to drive and the alignment helped by scrubbing off speed 'naturally', no tail happiness felt at all. The car had a serious pull to the left when driving straight, but REALLY turned great in the corners. After two laps, I had no fear or intimidation; 'trust the car' the instructor said. I warn my friends who no longer race, "If you don't want that feeling to go racing again, DO NOT go to the Richard Petty Driving Experience". IMHO, this experience is very addicting to any ex-racer.

HOME
This page last updated 07/24/2010.